A local restaurant on Clays Mill Road in Stonewall Center is closing their doors. Which restaurant? When will they close?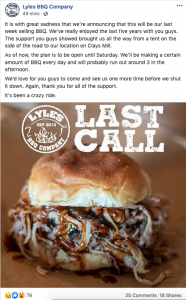 For those who get Lyles BBQ newsletters in your email, you probably already read the news. The BBQ joint said as of now, they plan to close their doors permanently on Saturday, February 1.
In the email and on their facebook page, they state "It is with great sadness that we're announcing that this will be our last week selling BBQ. We've really enjoyed the last five years with you guys. The support you guys showed brought us all the way from a tent on the side of the road to our location on Clays Mill."
The family owned restaurant opened doors on Clays Mill road around five years ago and opened a second location in the Fayette Mall Food Court. They also appeared on The Profit, a show that helps business owners save their business, in early 2019.
The family also opened a second restaurant, Nash's, in the "cursed" location on Southland Drive. The location closed 3 months after opening.
"We'd love for you guys to come and see us one more time before we shut it down. Again, thank you for all of the support."
—
Call today to advertise in Summit Guide, 859.268.0945