SPONSORED FEATURE
Walk the Talk
Meet Lexington realtor Cathy Davis
Cathy Davis has successfully translated her love for hiking into her role as a realtor and showing people the beauty of Kentucky. She started walking the different trails throughout Lexington to familiarize herself with all areas of the city, explaining, "As a realtor, I love to sell Lexington everyday."
Her favorite outdoor spots in South Lexington include Shillito and Veterans Park, reminders of how much she loves the adjacent neighborhoods.
"There are a lot of great homes in South Lexington," she says, "with older well-built homes and large lots in Stonewall." She continues, "The resurgence of the older neighborhoods in Lexington is also really great to see — I think we're going to continue to see those areas improved in the coming years."
South Lexington features the amenities of outdoor areas like parks and trails, along with the convenience factors of an array of schools, grocery stores, and medical facilities. Davis advises aspiring homeowners to consider accessibility when in the market for a new home. "I always tell people when you look for a house, it is the location that is one of the most important things."
For more than two decades, and more to come, Davis has enjoyed getting to know her clients and striving to find that perfect place for them to call home.
She says, "I like the challenge of finding a home for my buyers — often they'll tell me their basic desires, and just need a little more exploration to find what they're really looking for. It's my job to make sure they're happy with their purchase and that it's going to be an amazing home for them."
Southern hospitality is important to her, as she recalls, "I used to own a bed and breakfast, and hundreds of people from all over the world came to stay with us. I think that really sparked my love of showing people around the area and making them feel at home in Kentucky."
She has so many decades of success under her belt that even the children of her clients are now coming to her to help them buy their own first homes. She says it's moments like these that remind her of why she began this career in the first place.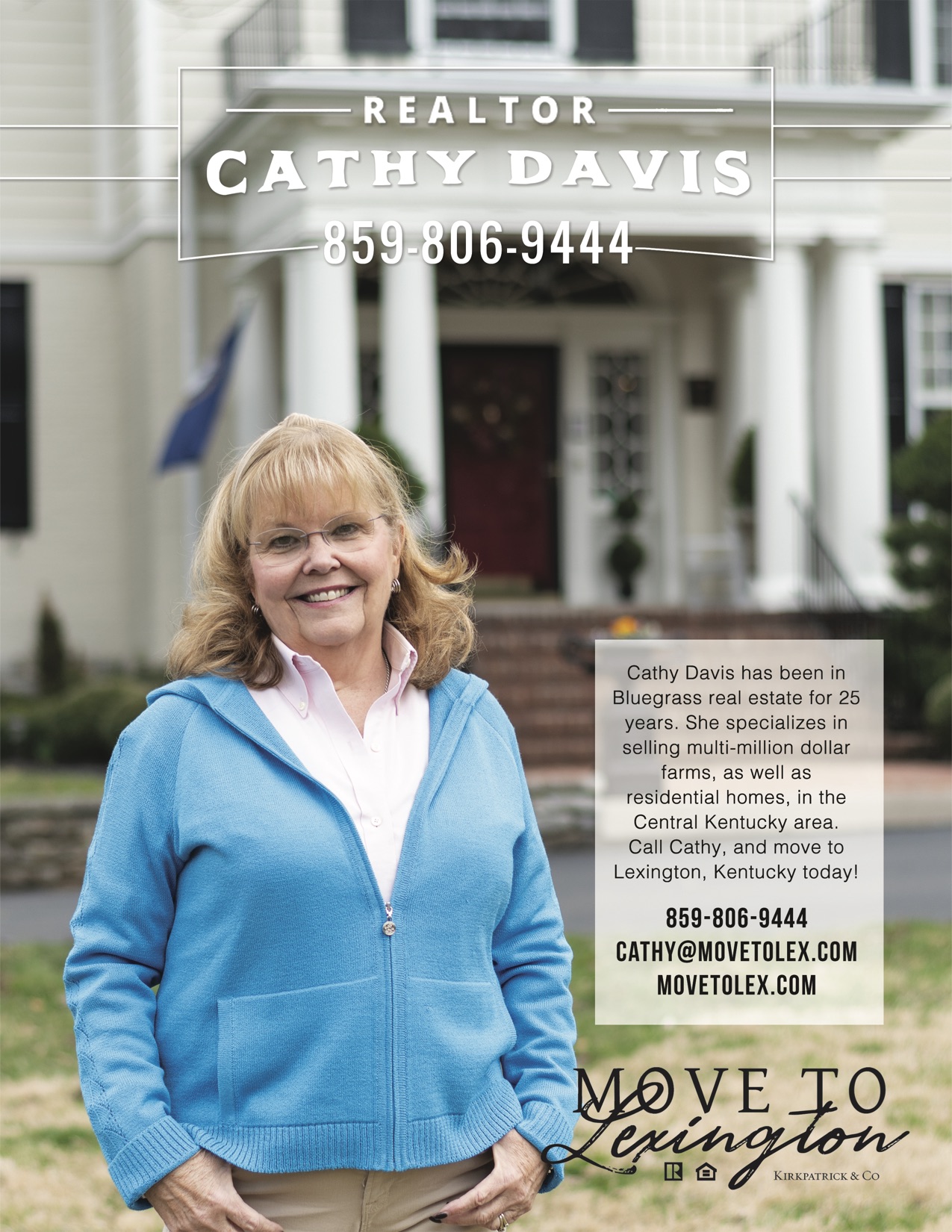 Contact Cathy Davis at 859.806.9444 or at cathy@movetolex.com
___
This sponsored feature appears on page 15 of the 2021 annual print edition of the Spring Summit Guide.

Call today to advertise in Summit Guide, 859.361.4169