9th District
Meet Councilmember Whitney Elliott Baxter
Councilmember Whitney Elliott Baxter is a Lexington native who's lived in the 9th District her whole life. She says, "This is where my grandparents settled down, where my mother was raised, and where I bought my first home. It's where I met my husband and where we are raising our two children."
The ninth district is home to Lexington's bustling Nicholasville Road corridor and includes treasures like Stonewall and Waveland, along with some of the city's busiest commercial corridors like Lexington Green, Fayette Mall, and the Summit.
Baxter is currently serving her first term as the city councilmember representing Lexington's 9th district, but this role runs in her blood, as she says, "I am following in the footsteps of my late Grandfather, Bill Rice, who was 9th District Councilman from 1978-1983."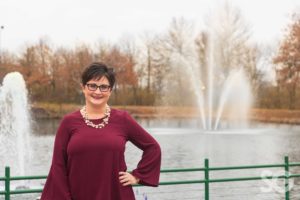 Councilmember Baxter took on the new role in January, but she had been active in the district prior through her involvement with Stonewall Elementary PTA and the Stonewall Community Association. "After I won the election, my daughter Audrey said, 'Mom we already run into people everywhere we go, now it's going to be even worse, isn't it?'"
She and her family first moved to their current home about six and a half years ago. "We fell in love with Stonewall because our families lived here, we wanted a larger yard for our kids, and we loved the unique style of homes in the neighborhood. Living in Stonewall has truly been a blessing for us."
She believes "South Lexington has deep roots," and that's part of the charm that makes our neighborhood so special. "There are generations of families that have called this area home for many years," she says.
Her extended family is a case in point. "We can walk or ride bikes to grandparent's houses and we usually don't have to leave the neighborhood for holidays. I also have a lot of friends in the neighborhood, which makes living in Stonewall really fun."
As the neighborhood continues to grow, she is a little surprised by the consistent increase in property values, but adds, "I always knew that Stonewall was a special place." She especially welcomes "the amount of young families that have moved in over the past few years. It's nice to see a wide range of ages in our neighborhood."
She knows they'll find a happy home, adding "Our community truly cares about one another and is always willing to help their neighbor. We all really look out for one another."
With her district located along the busy Nicholasville Road corridor, new businesses and restaurants continue to pop up. "South Lexington has a lot to offer and many businesses are finding their home here." She continues, "Our most recent additions include Crank & Boom, LeanFeast, Cinnabon, Agave, Picture Plus, and G-Soul Essentials. We also look forward to welcoming Cattywampus Station, SportsCenter, and Ashcroft & Oak Jewelers in the months to come."
She adds, "I think our neighborhood will continue to flourish and the 9th District will continue to be an area where people love to live and play."
Among her many roles, Baxter is a realtor and loves "helping people accomplish their dreams of becoming homeowners." She and her husband have two kids, Audrey and Hank, and a yellow lab named Willie. For fun, she says, "Our family likes to visit the farmers' market, explore downtown, and enjoy all the new and unique restaurants in Lexington." Her favorite neighborhood spot for a business lunch or family dinner is Bronte Bistro at Joseph Beth. "Their menu is robust and you can't beat the view of the Lake at Lexington Green."
If you would like to be connected to your neighborhood association, or would like to start a neighborhood association, you can stay up to date with local happenings by following her Facebook page or subscribe to her weekly newsletter. She says, "Community engagement is one of the main reasons I decided to run for office. I encourage everyone to become a member of their respective neighborhood associations."
SUBSCRIBE TO MONTHLY E-NEWSLETTERS!
9th District: wbaxter@lexingtonky.gov
FOLLOW ON FACEBOOK: @CouncilmemberWhitneyBaxter
___
This article appears on page 6 of the 2021 annual print edition of the Spring Summit Guide.

Call today to advertise in Summit Guide, 859.361.4169